To import an Excel Loss Run into LORAN, follow these steps:
Prep
Login to RISK66.com.
Save your Excel file to your computer.
If the file you are uploading is for a new client...
Click the "LORAN" button on the left sidebar.
In RISK66.com, click the "Add Client" button on the top left of the screen.
Enter the name of the client (and any additional information you may want to keep on that client).
Click "Save".
Upload
Find the client you wish to upload a file for.
To the far right of your client's name, hover over the ("Add" icon) and choose ("Import Loss Run" icon)
Click the "Choose File" button and navigate to the location on your computer where you saved the attached Excel file.
Click "Upload".
Select Sheets
If your Loss Run has multiple sheets, you will be prompted to choose which one your data is on. Below sheet selection, you will be prompted to choose which row your headers are on. Once you've selected both your sheet and header row, click the "Next" button.
Select Columns
On the "Select Columns" page, you will be prompted to map your required and optional fields. LORAN will try to map these for you using set keywords. For example, if your file has a column named "Date of Loss" or "Loss Date", LORAN will assume that should be mapped to "Date of Loss". If these are mapped incorrectly, you can change them using the "Source Field" dropdown.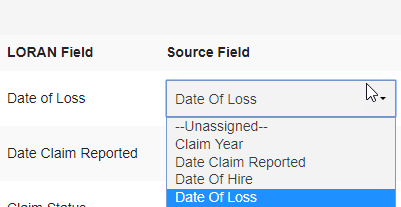 For convenience, LORAN attempts to show only columns of the same data type for each required field. (Ex: For "Date of Loss", it will show only the columns in your Excel sheet that could be interpreted as dates). If you do not see the column you need, please check
on the top right.
Select Breakdowns
The breakdown fields are optional but, if included, will add a report section for identifying loss drivers by grouping claims and showing frequency and severity. Examples of suggested breakdown fields include Location, Injury, Injury Object, Cause of Loss, Job Title, Line of Business, and Body Part. Date and Identification fields ("Date of Loss", "Claim ID", etc.) will not produce valuable breakdown results and are therefore not recommended.
Confirm Import
Once you've completed the previous steps, press

. This may take a few minutes as the report builds.
If your file finishes successfully...
Great! Click to move on to printing and editing report options.
If your file finishes with warning...
This does not mean you cannot print the report. It simply means your import lacks data that will prevent one or more graphs from being displayed.
Please review your warnings and either make necessary changes to your file or click to move on to printing and editing report options.
To see more on why your file finishes with warning, see our FAQs Why am I not seeing certain graphs on every LORAN report?. and LORAN - "FAILURE - See Errors" and "SUCCESS - See Warning" Messages
If your file finishes unsuccessfully...
Please review your errors, make changes to your file as necessary, and choose
To see more on your file finishes unsuccessfully, see our FAQ LORAN - "FAILURE - See Errors" and "SUCCESS - See Warning" Messages