The "Summary" and "Breakdown" graphs are the Frequency and Severity bar and pie graphs you see at the end of your LORAN report that report that reflect the fields chosen from the "Select Breakdowns" screen during import.
LORAN is programmed using a set of default values that determine what is and is not valuable information. Often, though, you may want to change what you see. You can do so on the Customize Breakdown Section screen. This page may seem confusing at first, but is quite simple once you get the hang of it.
On this screen, the first four boxes effectively tell LORAN what you deem "important" enough to show. These affect every breakdown on the report. If you do not want every graph affected, but rather only want to change a few specific things, these are not the numbers you should change.
Maximum Number asks "If there are a lot of items above your specified minimum percent, what is the maximum we should show?" So, if you wanted only Top 5 on every breakdown, you could quickly change that here.
Minimum Number asks "how many items have to be above your specified minimum percent for you to consider that breakdown important enough to show?". So if, for example, you imported "Job Title" but you knew there were only 2 titles and you didn't think that was insightful to report, keeping this as 5 (or any other number above 2) prevents that from showing.
Minimum Percent asks "What percentage threshold of the total incurred losses does each item need to meet before it is important enough to include?"
Moving down this page, you will see all of the summary report options. Anything you change here will override the defaults you set above. Make sure you set and save your defaults before changing these. If you change your defaults and click "recalculate", these will recalculate. These numbers will change what you see on the summary bar graphs (as opposed to the breakdown pie graphs).

Note: even if you did not include a specific breakdown in your import, it will show here (unchecked). This is okay and they will not show on the report, so long as you keep them unchecked.
Here, we see each breakdown. These numbers will changes based on your import, but let's start by discussing why these defaults are what they are.
Let's use Location as an example. I chose to leave the default values alone (recommended in most cases), so the minimum percent is set to 2%. LORAN shows us in the third column that there are 15 location items where the total incurred losses are greater than that 2% and therefore meet that threshold. 15 is greater than the set minimum number of 5, so this graph is going to show on the report (which is indicated by the check mark on the left). It will not show all 15 location items; rather, it will only show 10, as that is what we specified as the maximum number to show. This is the graph you will see on the report, should you leave all defaulted options: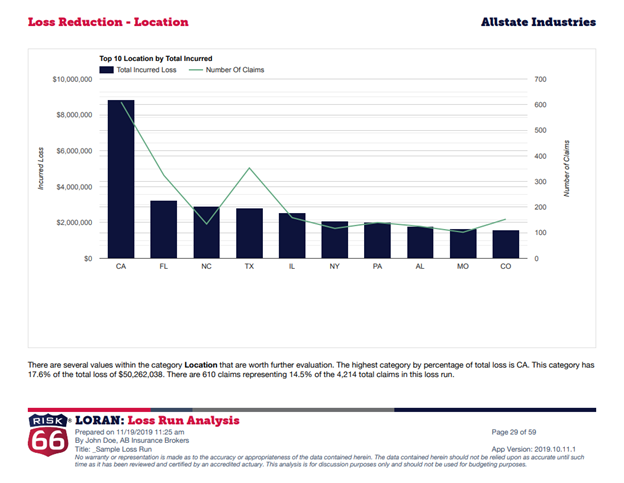 So, let's say you print the report and realize that you only want to see the top 3, or that you don't want to see this graph at all.
Go back to the Customize Breakdown Section page.
To see the top 3, simply change Show Number of Items next to Location to "3".
To remove entirely, simply uncheck the box next to Location.
Note: even though the "Show Number of Items" says 10 here, this graph will not show. The checkbox overrides this column.
Assuming this is the only change you want to make, click Save and Finish in the top right corner.

The next time you print your report, this is what you will see:
The process is similar for the breakdown (pie graph) reports. Let's say you looked a bit deeper in the report and saw that the location CA was showing you the Top 3 Causes of Loss, Injury Objects, and Body Parts for losses in the state of California.
To change these, direct yourself back to the Customize Breakdown Section page.
Find the summary that is related to the graphs you want to change. In this case, that is Location. and choose Details.
Let's say you'd really like to see the top 5 Causes of Loss, even though only 3 meet the minimum percent threshold, and you don't care to see CA broken down by Injury Object.
Simply change Show Number of Items to "5" for CA Cause of Loss and uncheck the box next to CA Injury Object.

Press Save and Finish.

The next time you print your report, this is what you will see:
Injury Object no longer shows and you now see the Top 5 Causes of Loss, with everything else grouped into "Other".
If you have any questions, feel free to reach out to us at Support@SIGMAactuary.com.